The 52-year-old Kazuyoshi Miura continues to have a 35th season in his career playing for Yokohama FC. Japanese club Yokohama FC recently renewed a one-year contract with striker Kazuyoshi Miura, who will turn 53 in February.
The striker born in 1967 had the opportunity to play in the 2020 J.League after being promoted to Yokohama FC last season. "King Kazu" has been recognized by Guinness Book of Records as the oldest professional footballer in football history.
In 2017, Kazu Miura became the oldest player in the history of world football to play professionally and score goals. He opened fire for Yokohama FC in a 1-0 victory over Thespakusatsu Gunma in the J2 League at the age of 50 days and 14 days. He broke the record of Stanley Matthews (England) scoring at the age of 50 days 5 days.
In the current Yokohama FC, Kazu Miura is even older than head coach Takahiro Shimotaira, who is 48 years old this year. In the previous season in the J2 League, Kazu Miura made 5 appearances for Yokohama FC with a total of 233 minutes of play. Despite not scoring any goals or assists this season, Kazu Miura has received interest from many other J.League clubs.
The Tokyo club wanted he to play for them in the new season. But he decided to continue to stick with Yokohama. He still enjoy the feeling of playing football at his age.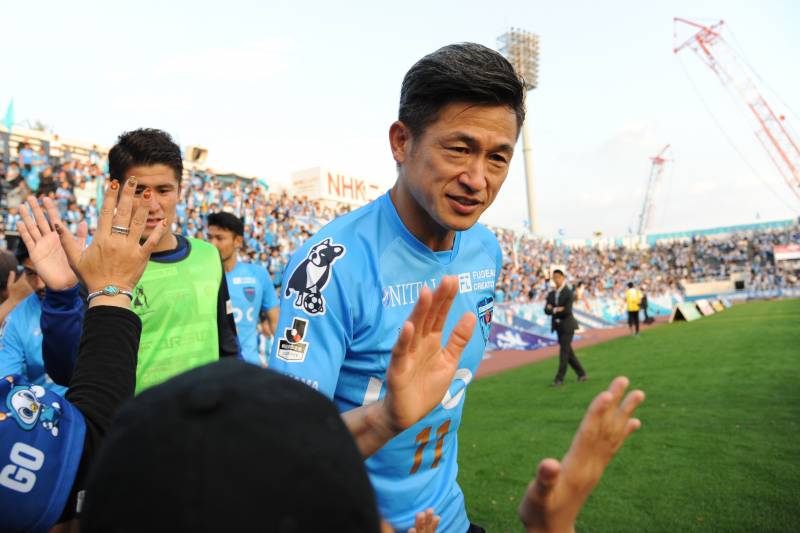 By officially signing a one-year contract with Yokohama FC, Kazu Miura will become the oldest player ever to play in the J.League. He will have the opportunity to confront the stars playing at this tournament as Chanathip Songkrasin. HAGL midfielder Nguyen Tuan Anh once had a campaign for Yokohama.
Kazu Miura and his teammates will play their first J.League match on February 23 against Vissel Kobe of Iniesta. Montedio Yamagata Club in the J.League 2 won Ehime 3-0 on January 7 with 2 goals scored in 90 seconds with the same scenario being shot straight from the middle of the pitch.